We were about 5 minutes from leaving to see the Keizer Christmas lights. This is one of those traditions that has become a significant one in our family. There is great anticipation for the day we head out. It is through a neighborhood (one I wished we lived in just for this season...that's the Griswald in me coming out again) where you drive along and look at all the Christmas lights up on homes. The road winds back and forth with the occasional snowpoliceman pointing us in the right direction and keeping us on track.
Because it is not just a major deal in our family but so many others, the drive is very slow and takes a good portion of the evening. We put the seats down in the back and the kids play and drink their perfectly made hot chocolate with candy cane sticks as stirrers. We ooh and ahh at all the new additions. We claim different homes as our favorite. We have Christmas music blasting through the radio. Windows rolled down with the heat turned up.
BUT...Jeanne-Ann was talking to a friend as we were getting ready and she mentioned that she didn't think it started till next weekend. I immediately googled it and found she was right. Karston's shoulders dropped, as did his face. It was a major disappointment. Thankfully we had planned out our calendar for which traditions we would be doing when before we head to the East Coast for the holidays. I called an audible and decided to do the gingerbread houses. We had 2 this year and said we would make it a competition. Boys vs. Girls.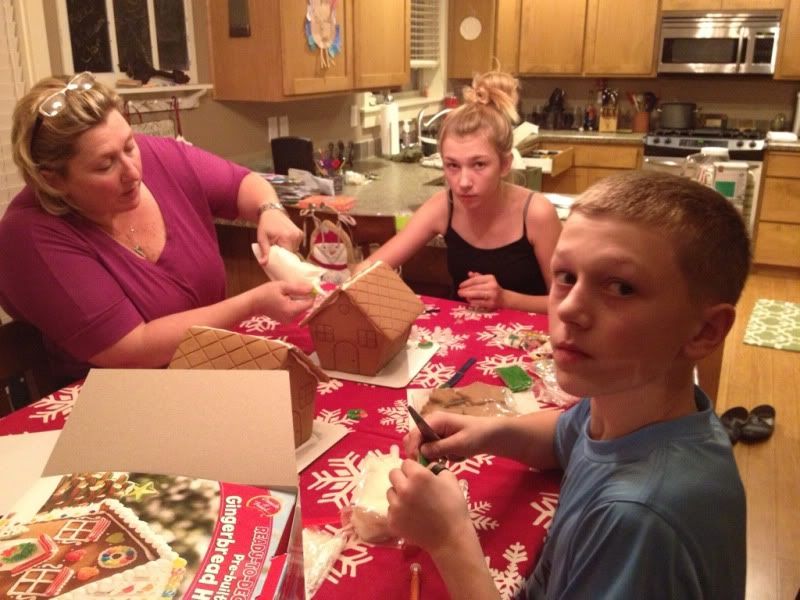 Serious concentration faces folks!
We opened up the packages, kneaded the bags of frosting so they would come out easily and cut open all the different bags of candy. We were ready and armed with all we needed to make amazing gingerbread homes. We called "no copying" and set ourselves on task. It was so much fun. We laughed and ate plenty of the toppings. I knew when it was too much when my stomach made a few comments about how much junk I was feeding it. There was a moment when I was looking for our frosting and was coming up empty. Karston had left to the bathroom and I thought maybe he wasn't feeling good and forgot he had it in his hands. He did not forget. As you can see below he wanted to play Santa Claus. He likes putting stuff on his face. It's kind of a thing he does. We all had a good laugh.
A house. A tree. A pathway. (a beard) All a perfect combo. And we had 2 sets.
So to instagram we went to allow impartial judges choose which they liked best. The votes are still being tallied and perhaps I will let you know in tomorrows post. Feel free to leave a comment below as to which you think is the winner. I won't tell you whose is whose. (whose is a funny looking word).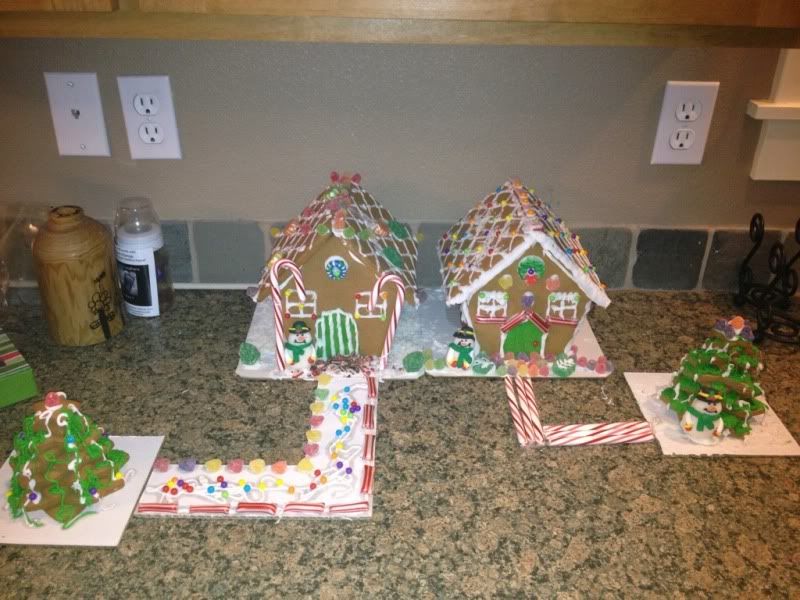 Which is your favorite?