Well, we have been in North Carolina for over a week and have only had to make one trip to the doctor's office. The funny thing? The doctor recognized us. We were there last year with Haak when he had an ear infection. This time it was Karston's turn. He got strep and tonsillitis. So sad. He was in such pain.
Then, like a tornado, a cold/flu thing came ripping through this home with a vengeance. There are 14 of us in this house, 6 of us staying in one bed room. haha. I don't know if it is because I have been taking airborne regularly or what, but I think I am the only one who has not been incapacitated by this virus. It has been taking between 24-48 hours to get through each person.
Fever. (Kynzi hit 101.7 today and Nyah hit 102.7)
Headache.
Awful cough.
Snot galore.
Drowsiness.
Not fun. Not one bit. I am thankful I have not gotten it. Praying it stays that way. Among the wrapping paper that has been strewn across the floor you can find tiny tissue mines. It is quite the sight. For Haak and Nyah it has meant sleepless nights, which means for Jeanne-Ann and I and the rest of the house it has meant sleepless nights.
The upside? Our kids are learning to share.
Merry Christmas!
Hoping yours is restful, sick-free and family-filled!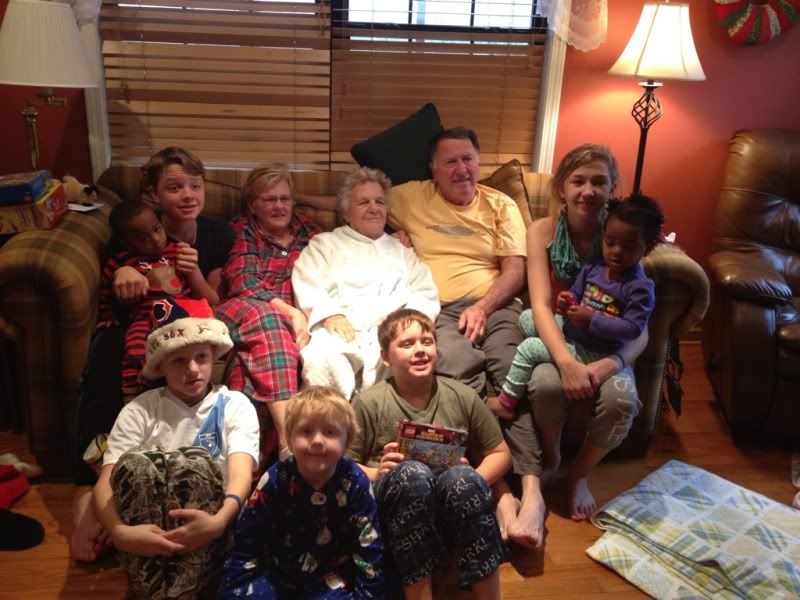 3 Generations!