Perhaps one of my favorite moments in any Christmas movie is when the Griswalds are walking through the snow in search of the perfect Christmas tree. Clark's daughter is shivering and has turned purple from the cold and they have hiked forever in the deep snow. Suddenly, they look up and lights shine down from Heaven and angels sing the Hallelujah chorus. The perfect tree. That is what I imagine every time we go looking for our tree.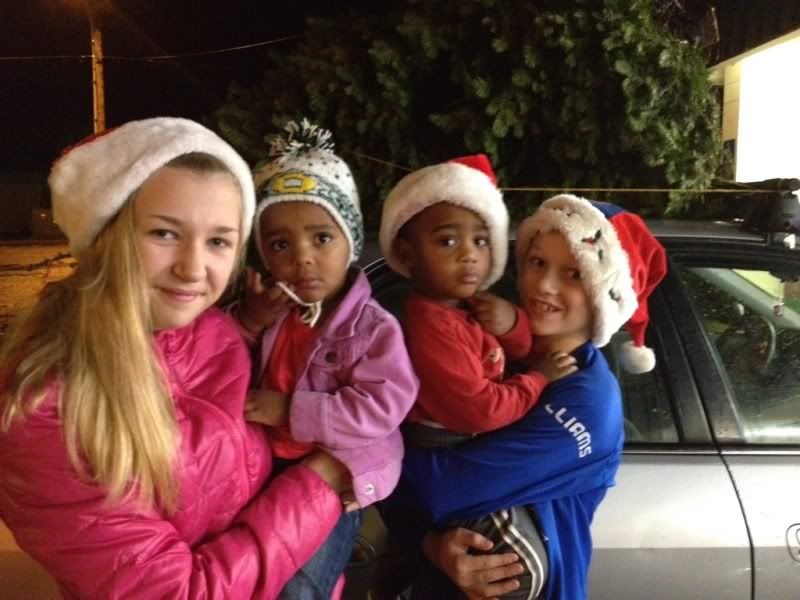 Usually we go to a tree farm and begin the hunt, saw in hand, and I wait. Then I get frustrated because everyone has an opinion and it's usually different than mine. I don't understand how the rest of my family doesn't see the light shining or hear the angels singing. It's as if they are so consumed with finding their own perfect tree they completely miss all the music and lights. I like my tree full and thick. Jeanne-Ann likes space between the branches. We usually end up somewhere in the middle. Then we head home for decoration time. Hot chocolate and candy canes are very much a part of our tradition.
This year is a little different. We are not going to be home for Christmas so we decided to get a small tree and pick it up at the B&S Market. I would rather have waited till December 15/16 to pick up a tree that would support
Matt & Kristina Smith's
adoption by getting a tree then, but we leave right after that. So, I am stuck with getting it here. At least it went to support Keizer Youth Basketball Association. Unfortunately, there were no small trees. It was pretty tall.
We found a pretty great tree and took it home to be decorated. Below is a time lapse of us decorating. We had to leave the lower part of the tree undecorated of any breakable ornaments because we have 2 little rascals who like to pick up things and play with them all the time.
Excited for a few friends who are joining me on this 31 day blogging challenge.
Bex Mann
Lisa Tran To
Joel To
Jeff & Kara Brown
Amanda Banker