At Christmas time we all usually head east to be with family. This year was no different except that we decided to take the kids out of school a little early and do something extra. Jeanne-Ann and I flew out with the kids to Kentucky and dropped them all off with my parents. Then the two of us headed to Nashville, Tennessee! Four days and three nights at The Hermitage...JUST US!!! I gotta tell you, it was awesome!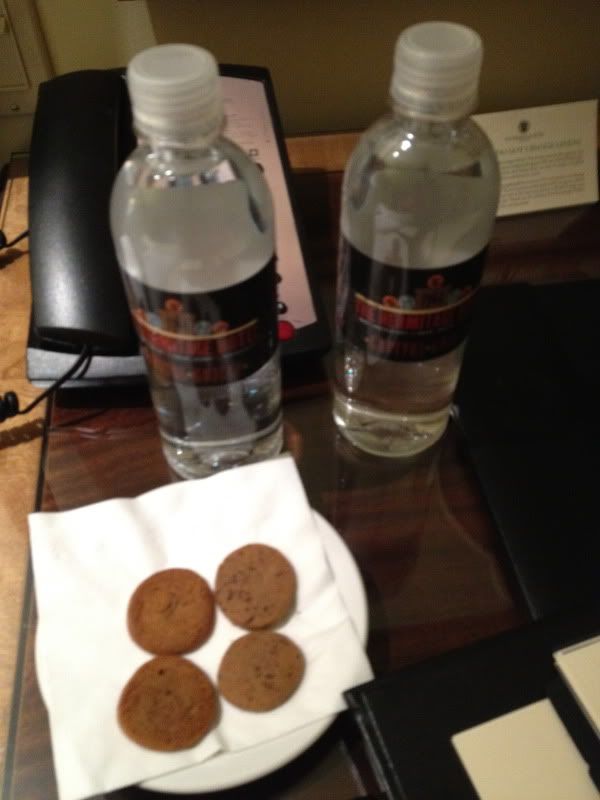 Sitting next to our bed as we walked into our room.
I highly recommend getting away for a while if you can. That's right married peeps...I'm talking to you! I think it is of utmost importance to make sure you care for your marriage. Not just in your first couple of years either. Date nights need to be part of your routine for the rest of your lives. Get away when you can.
Jeanne-Ann and I have had regular date nights since before we were married. It can be really easy to drop out of that habit once you are married. After all, you eat meals together at home, watch movies at home together, hang out together at home. That's great. It's also great to get out every now and again. I vote the more the better. It does not have to be expensive. We will sometimes go to the local bookstore and grab a drink ad sit and read next to each other. That may not sound very romantic, but we enjoy doing that together. Find what you enjoy and go do it. Groupon is a great way to go out for cheaper too. I have tons of ideas for dates on the cheap to dates with tons of cash money! Maybe I will write that post another day.
So we headed to Nashville. I want to hit a few highlights of our trip:
* The first night we walked around Legendary Venues and I said, "One of these local honky tonk bands is going to be doing major headlining shows one day. The rest will be doing these honky tonks for the rest of their lives."
* Centennial Park was a cool place to walk around. In the park you can find the only life-size replica of the Parthenon from Greece. That was amazing to see.
* J. Alexander's was a good place to eat, but for lunch it was a bit pricey for my taste.
* Vanderbilt University is where we spent Thanksgiving together 15 years ago. I was having vocal surgery and it is the best in the country, perhaps the world.
* Gigi's Cupcakes - it was one of the most "girlie" places I have been in a long time. I got three cupcakes, but should only have gotten one. It was soooo rich!
* Rocketown - a dream since I was in college. This is the place that Michael W. Smith started as an outreach many years ago. I remember thinking how cool it would be to go to this place.
He also had a song a song called Rocketown. It was huge in my world back then. We actually put it on in the car as we were driving to it.
I looked up online and it said there was Bboy practice. I was pretty pumped to see that. It turns out there was some band (Sophie the Whale) playing for about 15 teenagers. It was loud, but I still smiled and soaked it in for 30 seconds.
* Pancake Pantry - this was another place that was recommended to us and hit the
list of top 10 things to see/do in Nashville on tripadvisor.com
. We had to wait in line outside, but it was totally worth the wait. It's just one of those hole in the wall places, but the food is delicious! I had Caribbean pancakes and Jeanne-Ann had french toast. Soooo yummy!
* Ryman theater - this is where the Grand Ole Opry was/is at. There is a ton of musical history here! This is where Johnny Cash, Dolly Parton, Minnie Pearl and Elvis (and TONS of other amazing artists) got their starts. We got a very cool backstage tour. Buddy was our tour guide and has been working there since 1964. He knew all the stars that worked there. Now, I have NO idea what he said because he spoke some language that I'm not sure is an actual language. There is a video of him included. Enjoy.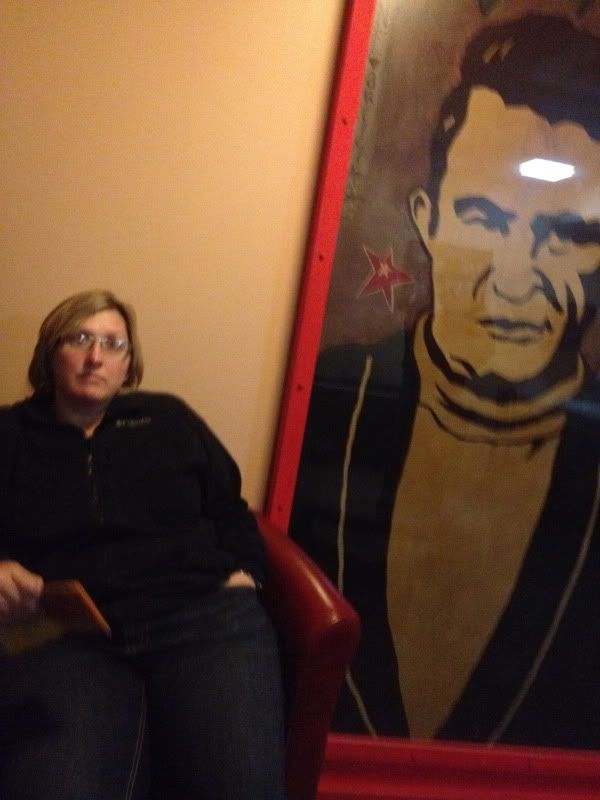 The Johnny Cash Room
* Wildhorse Saloon - this was an old warehouse that someone bought and turned into a 3 floor restaraunt/bar/dance hall. Another top 10 place and it is amazing! The atmosphere is fun and very cool. They have a bunch of fun horses around the place and line dancing lessons every night. After the lessons were over there was a whole bunch of line dancing to be had until the live band came on. The Buchanan Boys were great. More line dancing then too. Such a blast! Wanna see?
Bex
told me she saw this place on Ellen so I looked it up. We missed the
Swaggin' Wagon
by 2 days!
* Panera - a place Jeanne-Ann likes to go on a date. We went there a couple of times for a "hold me over" meal.
We ran into Elvis a few times.
So, care for your marriage. You will build memories that you will carry with you for the rest of your lives. Don't make excuses. We all have places we spend money and those are the places we place value. Value your marriage. Go do something this week that you haven't done! I would love to hear about your date ideas! (maybe even where you decide to go this week)