Last weekend Jeanne-Ann and I took the babies up to Fox Island and spent 24 hours with the Manns! It was a really great time to be together with some really great friends. We got there in time for church and sat under the tutelage of Josh again! I love being in different churches as it broadens my scope of how church happens outside of my own church.
After church was over we went to a cool pizza place for some lunch and then back to the house for naptime (babies) and hang time for the adults. (Kynzi and Karston stayed with friends as they had school on Monday). We chatted and chatted. So good to be with friends and refresh the soul. Then we decided to go to the living nativity in town. Last year they apparently had around 4,000 people come through the 2 days that they were there. They were expecting over 5,000 this year.
We had the option of doing the drive through or the walk through. It was suggested that we do both. After we turned onto the road where the church was holding the living nativity we decided to do the walk through, as the drive through line was super long. Well, as it turned out, the walk through line was super long too. It was also bitter c-c-c-c-c-c-c-c-old!!! We went onward anyhow. Thankfully you could walk into the church for some snacks, hot chocolate and warmth while you were in line.
There were shepherds in the front fields with sheep and donkeys. A guy was riding around on a horse. Everyone from the church was involved and dressed as if they were from the time of Jesus' birth. There were town greeters (an elderly couple who had been doing this for 13 years...if my memory serves me right); people selling things like spices, woven carpets, etc.; people giving henna tattoos; angels singing and of course, the nativity with Mary, Joseph and Jesus!
It was a very cool experience. The church did a phenomenal job and it was cool to take our babies through it. As I think about Jesus, who was promised to come to earth thousands of years ago, I think of Kynzi and Karston, Haakon and Nyah and Mercy (the Manns' little girl) who were promises to us. Jesus was chosen and so were our kids. God chose each of them perfectly for our family!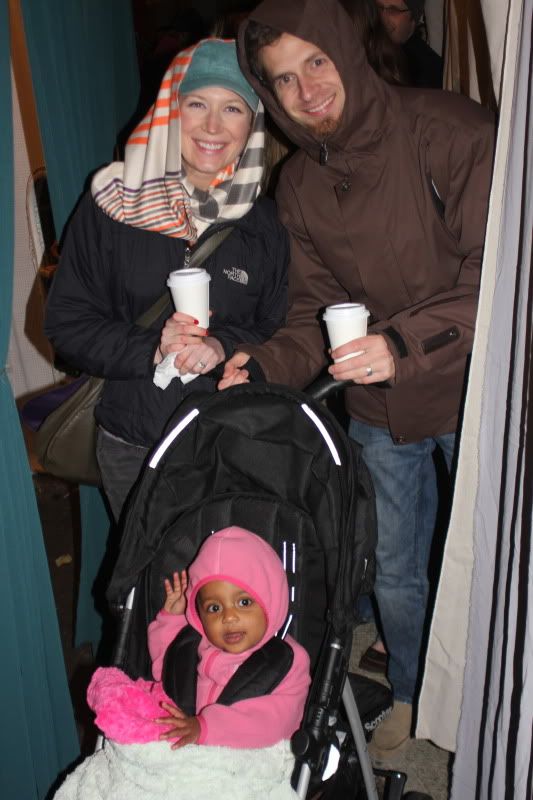 Happy family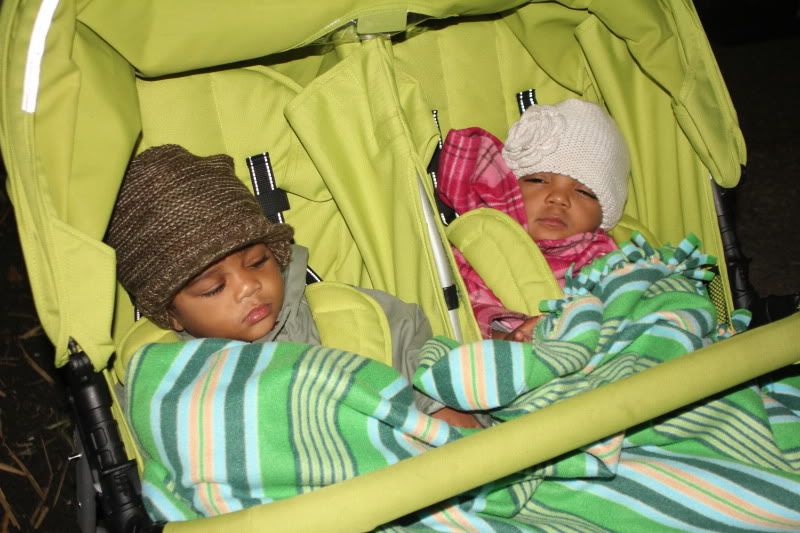 Bundled up
Angels tell of the birth of Jesus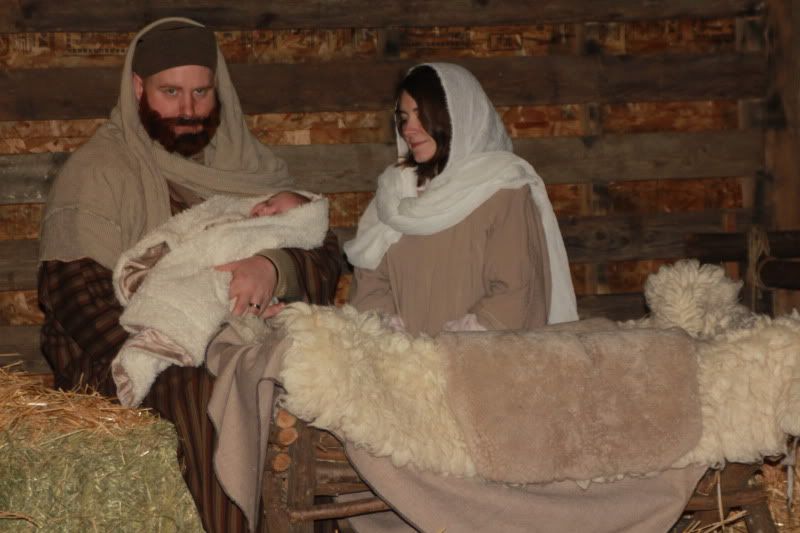 I think Joseph looks like Zach Galifianakis
Jesus, who was fully God, became fully human as well. A concept that is hard to comprehend at times. You can read the story of Jesus birth here, found in the Bible in Luke 2:
Luke 2

The Birth of Jesus

1 In those days Caesar Augustus issued a decree that a census should be taken of the entire Roman world. 2 (This was the first census that took place while[a] Quirinius was governor of Syria.) 3 And everyone went to their own town to register. 4 So Joseph also went up from the town of Nazareth in Galilee to Judea, to Bethlehem the town of David, because he belonged to the house and line of David. 5 He went there to register with Mary, who was pledged to be married to him and was expecting a child. 6 While they were there, the time came for the baby to be born, 7 and she gave birth to her firstborn, a son. She wrapped him in cloths and placed him in a manger, because there was no guest room available for them.
8 And there were shepherds living out in the fields nearby, keeping watch over their flocks at night. 9 An angel of the Lord appeared to them, and the glory of the Lord shone around them, and they were terrified. 10 But the angel said to them, "Do not be afraid. I bring you good news that will cause great joy for all the people. 11 Today in the town of David a Savior has been born to you; he is the Messiah, the Lord. 12 This will be a sign to you: You will find a baby wrapped in cloths and lying in a manger."
13 Suddenly a great company of the heavenly host appeared with the angel, praising God and saying,
14 "Glory to God in the highest heaven,
and on earth peace to those on whom his favor rests."
15 When the angels had left them and gone into heaven, the shepherds said to one another, "Let's go to Bethlehem and see this thing that has happened, which the Lord has told us about."
16 So they hurried off and found Mary and Joseph, and the baby, who was lying in the manger. 17 When they had seen him, they spread the word concerning what had been told them about this child, 18 and all who heard it were amazed at what the shepherds said to them. 19 But Mary treasured up all these things and pondered them in her heart. 20 The shepherds returned, glorifying and praising God for all the things they had heard and seen, which were just as they had been told.
21 On the eighth day, when it was time to circumcise the child, he was named Jesus, the name the angel had given him before he was conceived.
Some of you reading this already know this story and it is part of your story; some of you have heard it but it is not part of your story; some may be reading this and you have never even considered this; you may even think it is all a bunch of malarkey. Wherever you sit, I hope that you would at least consider what this means to you. The reality of this story has changed my life. Of course it goes beyond the birth of Jesus. It includes His life on earth and his murder on a cross and His coming back to life and returning to heaven. That was needed in order to cover over my sins. I had to confess my sin and receive His free gift of forgiveness too. It includes the fact that He is still alive today and that I am able to have conversation with Him today (prayer). I think I will post my faith story in a blog in the near future.
Consider Jesus this Christmas.