For the last three years I have been running a retreat over Halloween weekend. As a result it has been hard to participate with my kids in the trick or treat festivities. (sidenote: this is not a should I or should I not debate) This year we finally were able to move our camp to a different weekend. It has been many years since my kids have wanted to attend whatever church happened to put on an "alternative" or trick or trunk or harvest party event. They wanted to go trick or treating with their friends, so that's what we did. I have fond memories of this as a kid. I even went my senior year of high school and ended up winning a 12 speed mountain bike from the inside of an M&Ms bag celebrating Mickey's 50th birthday.
I had not put much thought into what I would wear, as I usually don't dress up much anymore. Then we found out that
Kara & Jeff Brown
were headed over to the Salem Conference Center to a viewing party of Extreme Makeover Home Edition (can we drop "edition" as there is no other show anymore and just call it Extreme Home Makeover?) with the Oregon School for the Deaf and they had tickets for us. Jeanne-Ann and I went over because we wanted to support the Brown's and because they were showing the East Coast feed and we wouldn't miss our time with our kids.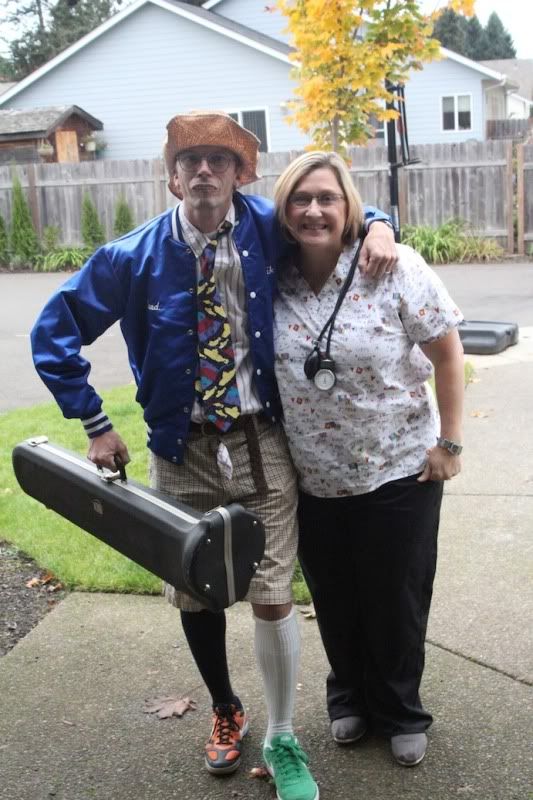 I threw together an outfit and dressed up like a nerd of Urkel-like status. I even had 3 different styles of Billy-Bob teeth that ended with braces. Jeanne-Ann dressed up like a nurse (I have an owie..can you look at it?) and we were on our way. We went, ate some yummy desserts and met Scott, the guy who did most of the work with Kara on getting her hearing aids fitted, and enjoyed the show. Yes, I cried. I always cry when I watch that show or Undercover Boss. But this one had so much more meaning because we got to be a part of this whole experience. I will forever be connected to this show/school/experience because of the impact it has had. Largely on my friend, but on our community as well. I got to see myself on TV a few times too! Steve is with my in a couple of shots too.
We headed back home to catch up with the gang and trick or treat till we were done. It was a beautiful night out and the Condellos, Unwins and Bakers (Heather, Andy, Kyler and Lily) and Williams family walked around and filled their bags. It was fun to see everyone. There were some great costumes and then there were the "I'm a skateboarder" costumes. Lame!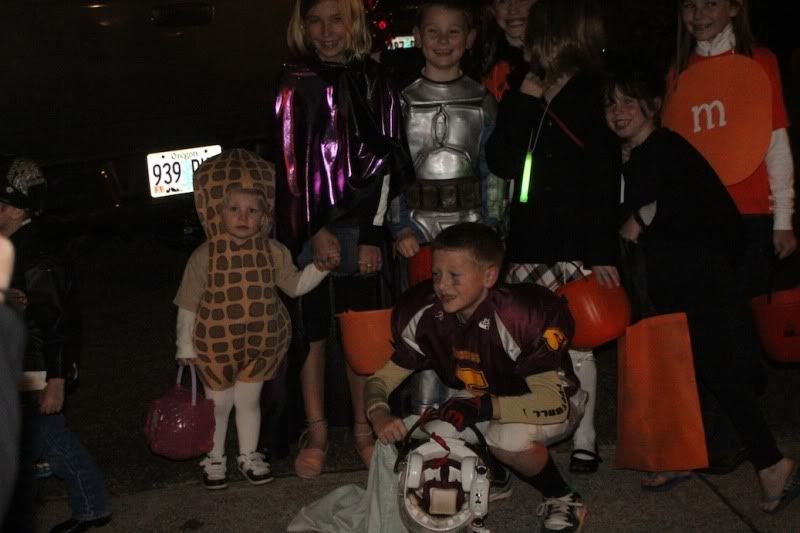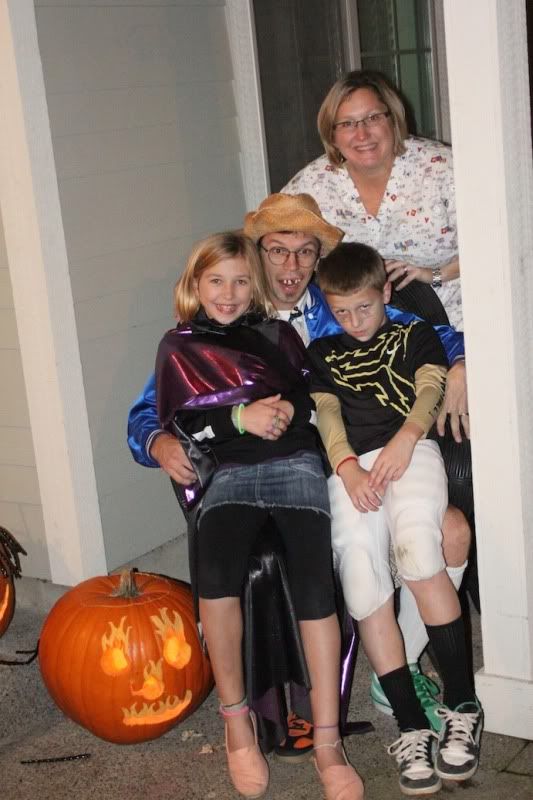 When I was a kid, we would come home and separate all the different candies by kinds and categories. Chocolates in one section, chewy candy in another, etc. Then the trading would begin. There was a science to getting the stuff you really wanted. I don't eat much candy anymore. (attempt at trying to live a slightly healthier lifestyle which includes no more McDonald's, etc.). I did anjoy an Almond Joy and some gummy junk.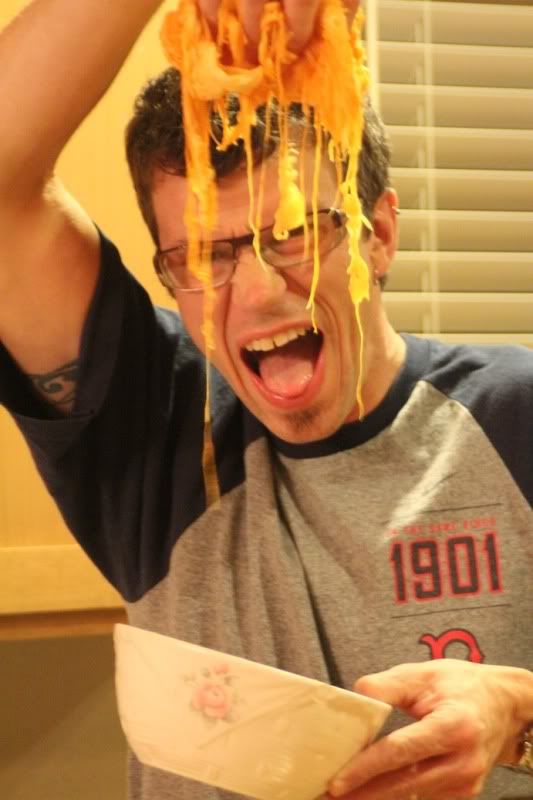 Then we went home and finished the pumpkin seeds. I made one batch with sea salt and the other batch with sugar and cinnamon. I have decided that the salty seeds are so much better! Need a good recipe? Check out
Bex's blog
. I have not tried it, but it sounds great. I just clean off the junk and then soak them in salt water overnight; spread them out on a tray with greased tinfoil; pour salt on top and cook for 45 minutes at 350F. Yum!
It was an extra special treat to have my parents with us this year. They came out for an extended weekend and my kids were over the moon about having them there to trick or treat with them!
What is your favorite candy?