I don't know if you caught my blog a few weeks ago when I talked about One Day Without Shoes, but tomorrow is the day! Toms shoes is an amazing company with an amazing strategy. For every pair of shoes they sell, another pair of shoes is sent to someone in a developing country. I love this concept and I wish more and more companies would do the same thing.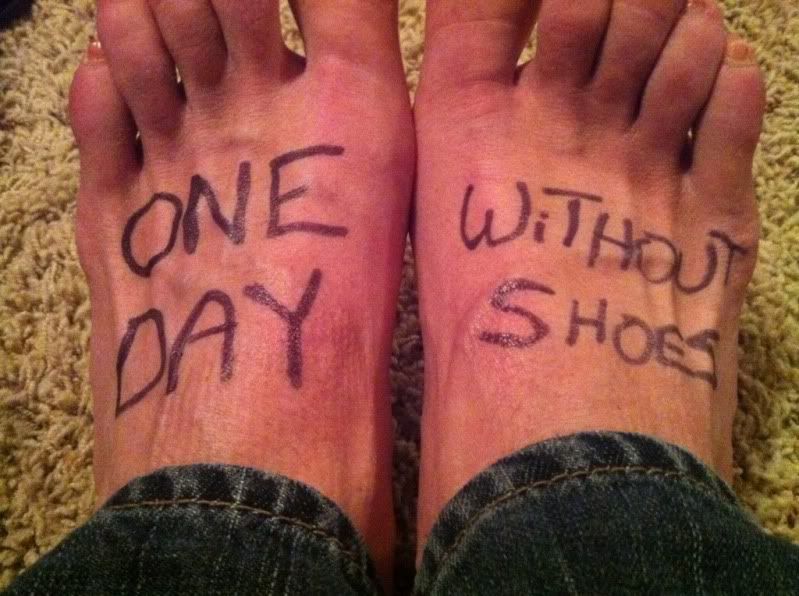 Tomorrow millions around the world will spend the day walking barefoot to raise awareness of how a HUGE population of the world can not afford their own shoes. I will be one of those people. Will you join me? Someone asked me if there was more that they could do than just "raise awareness" and I began to think about it. I am headed to Ethiopia SOON (we do not know when yet, but we are praying we get an answer here any day). I would love to collect NEW or "gently used" shoes to take with us. We will bring extra suitcases with us to fit the shoes in.
The key is that these shoes should NOT stink! Please do not give me year old plus shoes. They need to look new if they are not brand new. Contact me with how to get those shoes to me. Just
email me here.
Want more info? Check out
toms.com
and you can also download their
iPhone and Droid app.