On Friday we finally got to do it. We met Mercy Mann in real life for the first time! We have skyped with her several times, but this time we saw her, we held her, we kissed her! It was awesome! But let me back up a little and then get back to here.
Josh and
Bex Mann
invited us to Starbucks to tell us that they were planning on adopting from Ethiopia. Jeanne-Ann and I were kicking each other under the table. You see, just that morning we were having our first major conversation about the possibility of adoption and here God was using some dear friends and their journey to move us forward on our journey too. We have walked together closely on this road of adoption and it has been truly amazing. We have walked through the joys and the sorrows of all that is adoption together. These have been some amazing friends. God has truly blessed us with a bunch of amazing friends and family to support us, encourage us and pray for us along the way. I know many of them are you my dear bloggy friends. Thank you.
We have gone back to that same Starbucks for all of our (the collective our) celebrations along the way and added Chipotle to the date as well. It has been a fun tradition. When they headed over to Ethiopia I had a deep sense inside that we were "with" them there. I felt like I was experiencing it alongside them. Bex is an incredible writer and I love how she blogs. I learn so much of what it means to be a great blogger/writer from her. (I'm working on honing my skills Bex...thanx.) Her ability to be so descriptive and detailed has made it feel like I was there. Sidenote: I would say my sister Nina has done the same as she is also an amazing writer! Both have moved me to tears and to deep laughter.
We have also been able to skype with them along the way. We got a tour of the guesthouse they stayed at (perhaps our future temporary home) and get to meet Mercy and see her in all her digital goodness. Often those skype video calls would include my sister Nina, Wes and their 2 kids Alex and Eliana. What a thrill that has been for us. Our kids are at the same orphanage as Mercy was at. That's only ONE degree of separation folks!
So when the call came last week that they were actually coming home hot tears of joy streamed down my face. It is hard to fully describe how I have been living vicariously through these 2 families as they have been over there. Nina and Wes are still over there as they have hit one issue after another. We are praying that they are able to come home this week! Would you join us in praying for that to happen? Read more about how you can help them financially get home here. They have been there since Early January!
They boarded the plane and stopped in Amsterdam and San Francisco before they finally landed at PDX. Several of us met at YoCream for some frozen yogurt yumminess before we finally go to the airport. With friends and family all in one area we anticipated their arrival with greatly. The buzz was fun to listen to. We had made a huge poster and the Unwins (I think) brought American and Ethiopian flags for the kids to wave. Bex had asked if I would take pictures when they arrived and I was quick to oblige.
Everyone waiting with baited breath.
We stared as far down the corridor as we could of concourse A, knowing that their flight had finally landed and Bex had tweeted "Home."

A simple one word tweet drenched in meaning.
After what seemed to be an eternity, we finally saw them and everyone began to cheer and shout! They were home! It was real. The friends kept their respective distances and allowed the family to be the first greeters. There was some hesitancy at first as no one wanted to overwhelm them until Liz (Bex's sister) said, "Forget this!" and charged right at them full force. Soon we all got our hugs in and I won't lie...it felt good. This is family.
The Family...all together!
When Jeanne-Ann was holding Mercy Bex said, "You are now touching someone who has touched your babies." I lost it. That surreal moment will stick with me for a long time. I was suddenly transported to a building filled with children whom, for one reason or another, don't have birth parents that can care for them, and I missed my kids. I have not held them yet, but I know I love them. Deeply! Soon my sweets, soon...Pappa and Mamma and your sister and brother are coming to bring you home. Soon.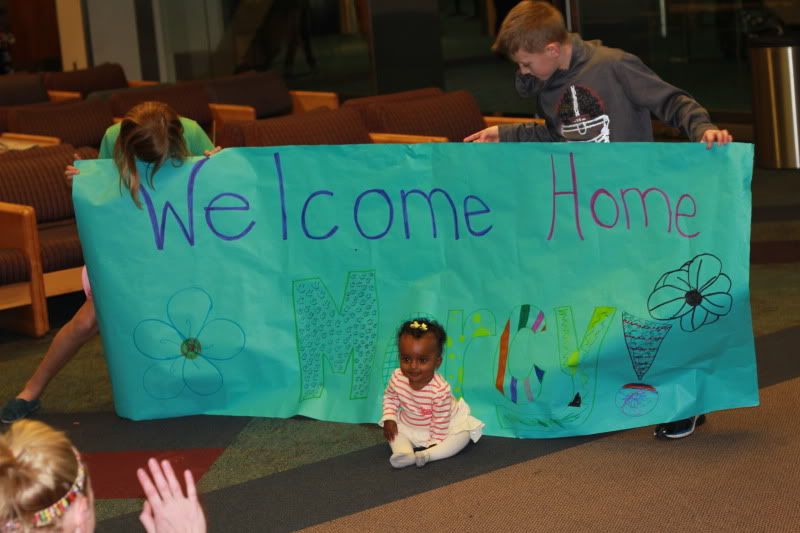 One of my favorite pictures of the night.




Mercy meets some of her new friends.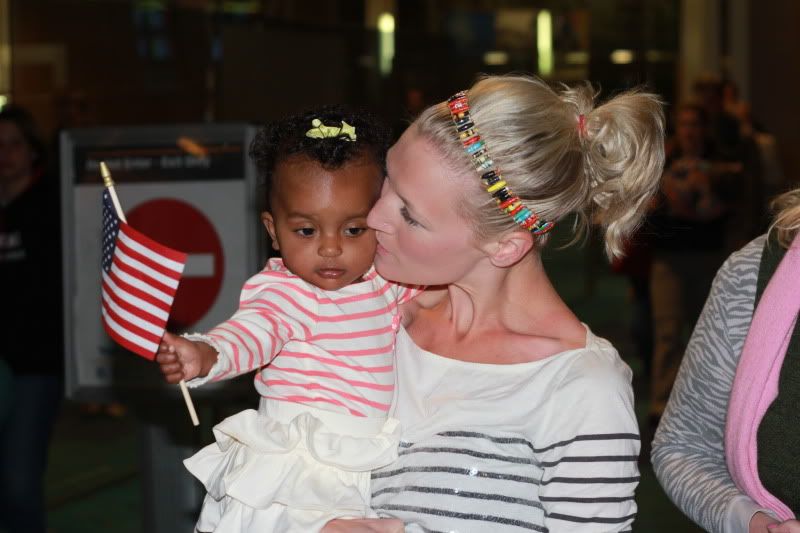 It's official. This little one is an American!
This was a good day. A really good day.