I was sitting in my office today and planning on heading out to our adoption agency to deliver the biggest check I have ever written. It's the referral acceptance check. I know we didn't have the second referral, but I did not want the check to be any hindrance at all for the next part of the process. I was planning on leaving at 11:30, but a few things kept coming up and it was delaying my departure.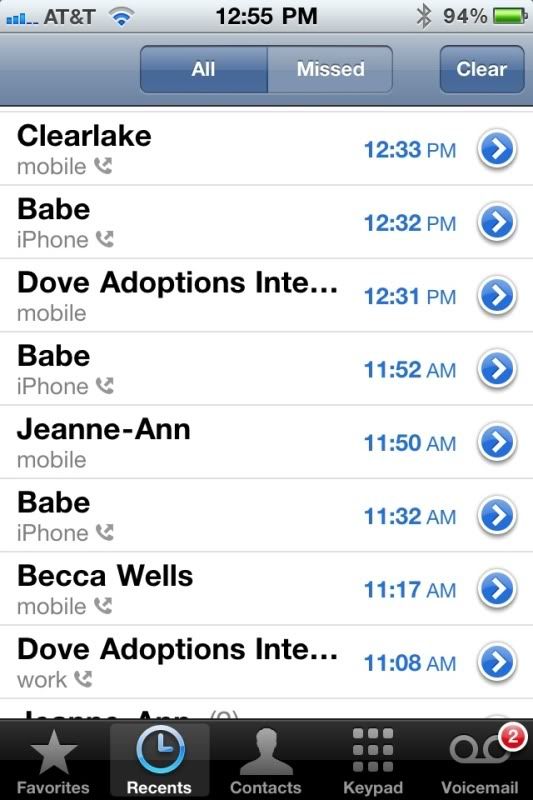 Again, Jeanne-Ann and Babe are the same people.
I got my jacket on and was almost ready to go out the door. Then all of a sudden, at 12:31PM, the phone rings with that special ringtone that will forever hold very special meaning to us. It was Tami at Dove! She said she had another referral for us! Gulp! I asked if Jeanne-Ann was on and she told me she could not get ahold of her. What?!?! I told her I was putting her on hold and would try to call her and conference her in. She didn't answer her phone? 3 calls...NOTHING! CRAP!!! I got online and found the number to the school and told Debbie at the front desk I HAD to talk to Jeanne-Ann. I knew it was between morning and afternoon classes so she should be free.
A minute later Jeanne-Ann was on the phone and I conferenced her in with Tami. "Oh no!" Jeanne-Ann cried when she heard it was my voice on the line. That meant Dove did not call her, but it must be about the referral. So we had to find out information over the phone. No running home and getting the kids out of school this time. We wanted to know the gender and age and a few other things before we got off the phone and looked at pictures, etc.
IT'S A GIRL!!!
I am going to have another daughter!!! I can't believe it. Wow! Amazing. Kynzi has been praying so hard for a little sister and of course we would have been happy with a boy too, but soooo excited we have a little boy and girl.
I am walking on air right now! My heart is so overwhelmed with love for these two beautiful children that will be mine and Jeanne-Ann's forever!
After I got off the phone with Jeanne-Ann I jumped in the car, headed to the bank to get a cashiers check and then drove to Dove. Once I arrived Krista saw me through the window of the office and greeted me at the door. There were most of the people from the office ready to hear all about it. I obliged and shared the story about our two kids! What a fun moment to get to share with the people who are pretty invested in our journey from a totally different side than most people we know.
I headed home and when I arrived Jeanne-Ann had told the kids we were going to do something. I think Kynzi may have had an idea, but she was trying not to let on. We set up the computer and Jeanne-Ann said she wanted us all to look at our son again, but when I opened the screen they saw their new SISTER! Kynzi screamed and jumped up and down and then proceeded to dance all around the room as Karston watched and said, "Cool!" Then it was time to connect with the grandparents and other family members as quick as we could. We could not keep the lid on this one for too long.
We went out with some friends to Green Apple frozen yogurt to celebrate. We wanted to celebrate both of them, but decided this round should be a little less expensive. Haha. We love getting to celebrate with others and love that you get to be a part of our journey, whether you are a great and close loved one or a blog "stalker." You are part of our journey. Thank you for your encouragement and your support. We now will dig our heels in for the next waiting period, which we have heard is harder than the first one. I can understand because now we know who they are and we love them already. We just want to be with them and love on them and have them home with us. With a face and a name and two real human beings tied to our dreams, we long to hold them in our arms. It looks like it will be 3-4 months before we leave for Ethiopia.
My sweet, beautiful chosen children...I love you. I long for you. I have been praying for you every single day of your life! I can't wait to hold you in my arms and snuggle you and love you an kiss your faces! We are coming...as soon as we can.
Want to read about our first referral?
Click here.
Names to be shared soon. Keep your eyes open.