On Saturday we decided to take a trip to Wildcat Mountain. I have asked several people in Oregon if they knew where that was and not one person has said yes. Kinda funny, but it is an out of the way place. The reason we were headed up there was because my parents are in town and they are avid geocachers, and the oldest active geocache is up there. It was placed in May 2000.
So we got up early and my Mom, Dad, Karston, Haak and I loaded up in the van and set out for our journey. It took about 2 hours to get there. Lots of back roads and a lot of winding. Soon we were on gravel roads and it became narrower and narrower. At one point I said I didn't want to drive any further as the branches might scratch the van. We got out and walked 3/4 of a mile and into the woods on small trails under branches and near a creek. There it was, the oldest active cache. Pretty cool. It was the 12th cache ever placed and it was a major win for my parents.
Anyhow, we walked back to the van and drove to our next destination. This was the 17th ever placed cache and we knew it would be a hike. It took us a little bit to get oriented, as there were lots of trails in and out of the gravel road we were on.
Karston found a spot to sit while we were looking for the right way.
He was excited when we figured out where we were going.
With Haak on my back and the right trail found, we headed up the winding trail filled with switchbacks and beauty. I didn't realize it would be a 3 mile hike in and 3 miles back again. I don't think I was quite prepared for that. It was a perfectly gorgeous day out though, so it was very enjoyable. The view. Oh, the view!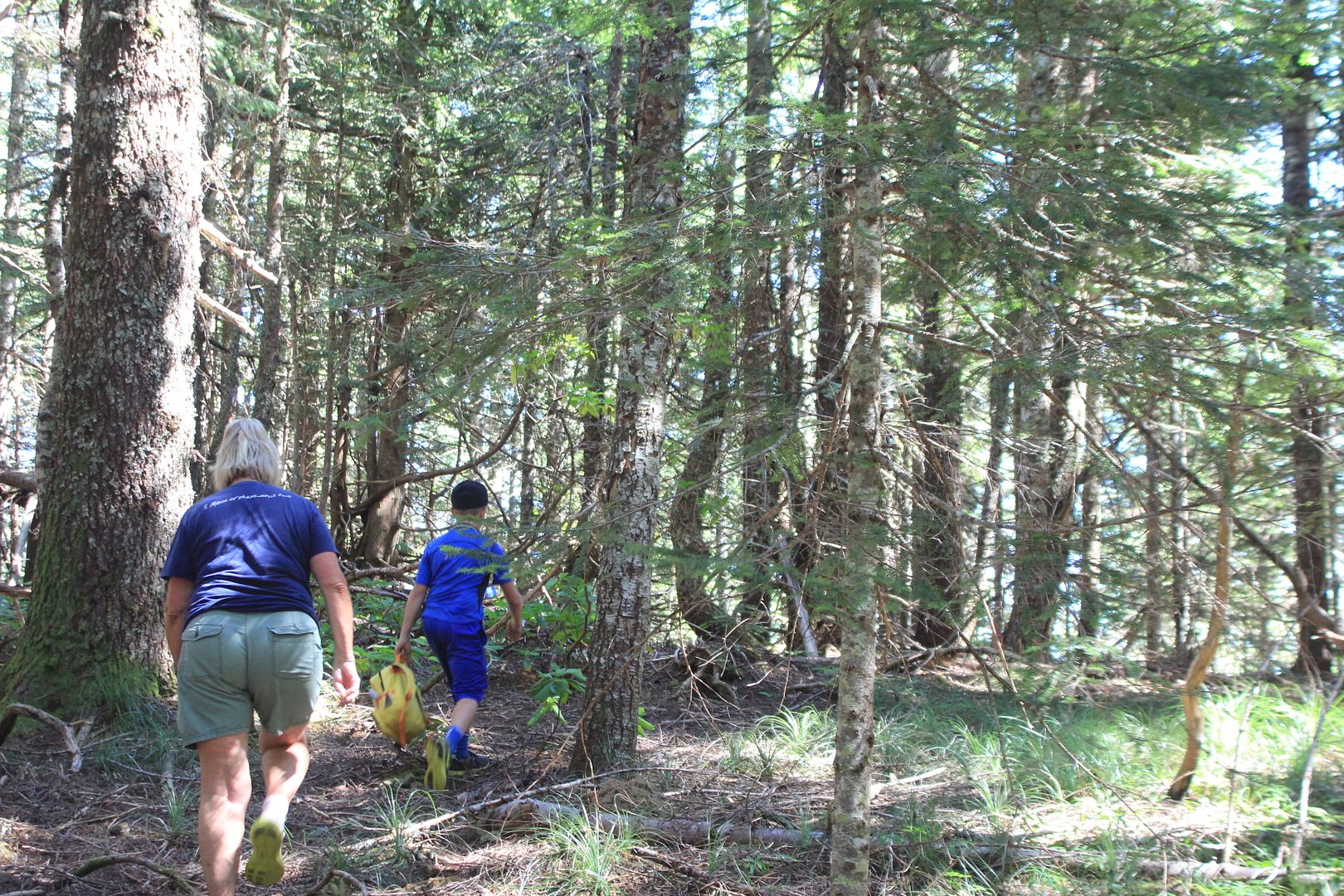 Guessing there was a good switchback, we took a shortcut through the woods.
I gotta tell you, even though I could feel the weight of Haak on my back, this was such a perfect day and a hike in good shoes and not flip flops (
like my last "hike"
) was so great, invigorating even. Along the way we grabbed another cache that may have been one of the coolest "finds" I have seen. I have seen a lot of clever geocaches over the years, and this one was just plain fun. If you don't know what to look for you would completely miss this treasure trove of a tree. You see, it was filled with small creatures in every nook and cranny of the bark and rotting holes.
There were a few spots where the trail gets pretty narrow and has a large drop off. I got a little nervous as we walked through that spot, but when we finally emerged at the top it was breathtaking.
We took a couple of family pics with Mt. Hood in the background and then headed back for the car. It was a great day. Karston even said, "This was so awesome! I am really glad I came." That coming from the boy who does not like to travel more than 10 minutes to get anywhere. Have you ever gone geocaching? What was your coolest find? Are you a hiker? Where do you like to hike?