Today I lost a dear friend. One I have not seen in a few years, but one who has had a significant impact on my life. Bill Brown was the director at the camp I started going to when I was in 3rd grade. Delta Lake Bible Conference Center was extremely significant in my spiritual journey. I was not greatly challenged at church growing up (we did have some seasons) so camp was the place where I started my real journey with Jesus.
Camp is where I first realized that I needed to own my faith in Jesus. It wasn't just about making sure I was going to heaven, it was about really giving my whole life to Jesus. I remember when Ed Glover read from Proverbs 3:5-6 - Trust in the Lord with all your heart and lean not on your own understanding; in all your ways submit to him, and he will make your paths straight.
Ed said that "some of you are trusting God with part of your heart and it is time to trust Him with all of your heart!" that was me. I knew in that moment I needed to fully trust God. I told God that I was all in, whatever that meant and where ever that would take me.
The next summer I was working at Delta as a jr. counselor. Bill sat me down near the end of the summer and told me that he believed God wanted me to be a youth pastor. I had no idea what that meant. I never had a youth pastor. I had met a number of them at camp but only knew that they had to serve a week of camp and that I thought they were cool.
Bill believed in me. He saw something in me that no one had before. It was such a significant conversation that I have not forgotten it almost 30 years later. As a matter of fact, it has been something I have used when I have trained volunteers and youth pastors since I have been in ministry.
Bill loved Jesus. Bill loved camp. Bill loved people. It oozed out over everyone he was around. Was he perfect? No! Haha. But he has made an impact for the Kingdom of God that can only be known by God. The countless number of staff at camp over the decades all could look back and point to how God used Bill in some way.
This morning Bill passed away of a heart attack. He is now with Jesus. That is pretty awesome, but he leaves behind many loved ones.
I have lots of memories of Bill. I remember visiting him in his cabin and almost every time I would visit in the evening he would have a batch of popcorn. It's funny. Until I wrote that I hadn't thought about it, but the last few years I can be found eating popcorn on many evenings. Connected? Maybe.
We both share a birthday on April 14th. Every year Bill would send me a card or a text on our birthday.
Every year when I worked there we would do a cake auction and we would get together with Jeff Dooley and pool all of our money and pay ridiculous amounts for a cake and then we would sneak up behind Bill and smash it on his bald head. That was always a highlight for the campers and for us!
One time at a Haven camp week (mentally and physically challenged campers) bill wanted to show them a magic trick. He called me up on stage to be his helper. He rolled a newspaper into a cone, jammed it into my pants and then poured milk into it. a) He knew I HATED milk. b) he made the trick not work and poured milk all down my pants. The campers and staff and Bill laughed and laughed and laughed. He got me good!
We did a parody of Bad, bad Leroy Brown and it was Bald, bald, Billy Brown.
This back and forth fun is something I loved about Bill.
I know his wife Sara and daughter Beth are loved and are in mourning. Praying for you friends.
If you have someone that has spoken into your life, take a minute or two and send them a card saying thank you. It is invaluable for someone to hear that they have made an impact on your life.
Because Bill spoke into my life I followed after God's call on my life to go into full time youth ministry. I have been in full time youth ministry for over 21 years now! I point back to Bill as the beginning of that.
This picture that Beth let me use is typical of how I remember him.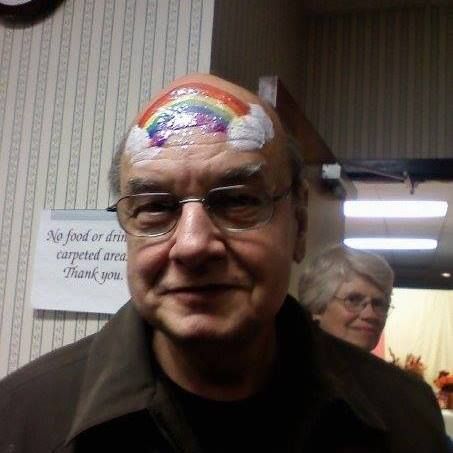 Thank you Bill. I love you. I miss you.