After a long day of running around to almost every corner Addis we finally headed to the airport to catch our 11PM flight home. We got there with plenty of time to spare. It was 8PM and we were checking in. The problem was they didn't have Haakon and Nyah in the system. My dad had paid for them (you have to pay the taxes for a lap-child). The next 2 hours was spent trying to figure this out. 5 different people worked on it. In the end we paid for a new set of tickets for them and said we would just get reimbursed when we got home.
Haak and I went to our seats in coach (loser) class and Jeanne-Ann, Nyah, Kynzi and Karston took their seats in first class! They were flying on rewards tickets and the return tickets (as we had to change them from Sunday to Wednesday) were cheaper if they flew 1st class! Imagine that! Thankfully Haak and I slept most of the way to Frankfurt.
In Frankfurt we would no longer fly Lufthansa, but we would be on Continental. They could also not find Haak and Nyah in the system. Jeanne-Ann and the kids were booked in 1st class for this leg all the way to Newark as well. After era considerable amount of time they were able to find Haak but not Nyah. Something must be pretty jacked up in their system. Anyhow, Jeanne-Ann mentioned to the lady who was helping us that as soon as we landed in Newark our babies would become American citizens. She said it was really important for all of us to be together at that moment and wondered if there were anyway she could seat me with them. It was too late to use rewards miles and she informed us it would cost 3,000 Euros. That's about $5,000 USD!!! Just to upgrade. Gulp.
She said she would not promise anything but that she would talk to her colleagues. After about an hour she called me up and said they worked it out so I could sit with my family! Amazing! These seats were AWEsome! They have buttons that you push to raise your legs or lower your back. You can even lay completely flat to go to sleep. A 10 inch monitor with over 200 movies to choose from and TV shows and games! I watched 4 movies. Haha. There was even a built in bassinet for Haakon to sleep in. I could go on and on about the food and sundaes, etc, but I wont. I know what it's like to fly in loser class and it's hard to go back there once you have tasted the good life. :)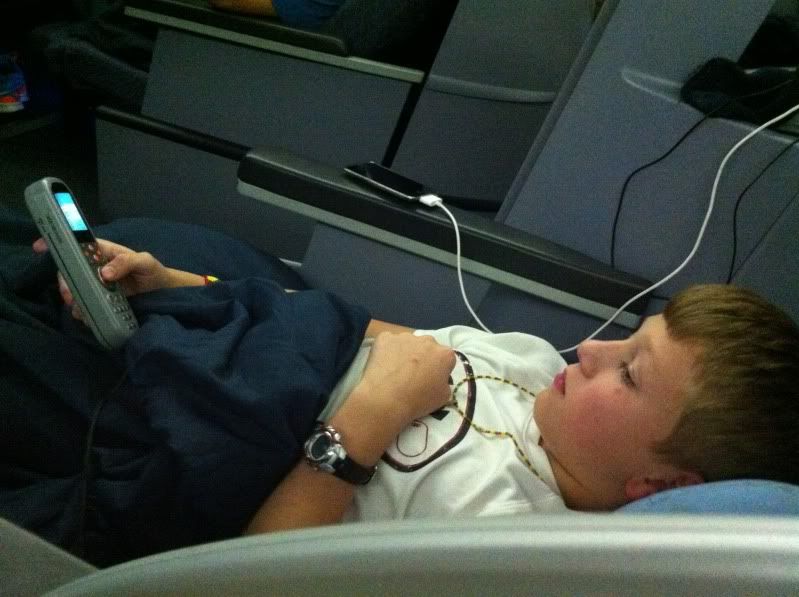 Karston Enjoying a movie and a snooze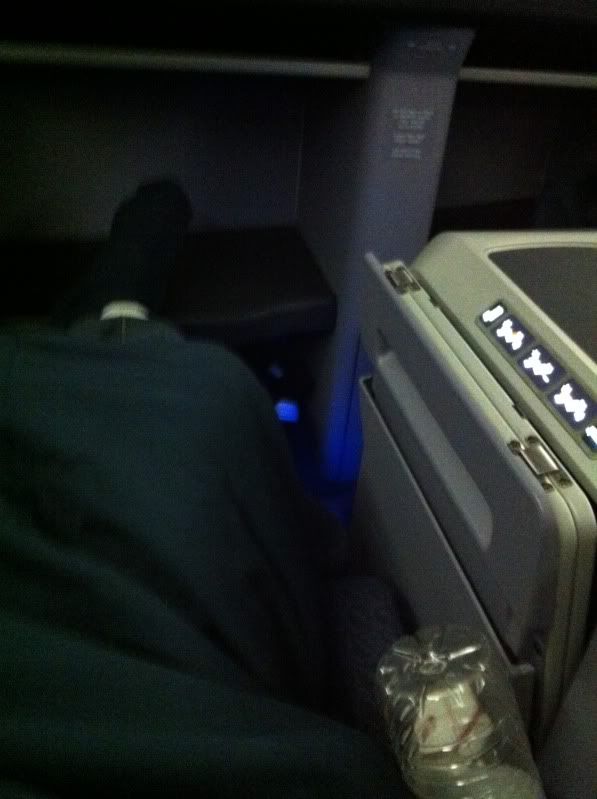 Nothing like stretching your legs on a flight.
We landed in Newark and our babies became US citizens.
It was a wonderful moment. Then all of a sudden our phones lit up as we could finally turn them on for service after nearly 2 months. I tweeted about landing and the citizenship and made calls to family and then to my surprise, my brother decided to drive down from Albany (3 hours) with his 3 boys to see us! We spent a couple of hours together and shared stories about all of our summers' happening. It was wonderful.
Fred Armisen from Saturday Night Live and Portlandia even greeted us. What a nice guy.
We then loaded up and got aboard our final flight. I had actually been upgraded to 1st class for this final leg, but the rest of my family had to sit in los...sorry, coach class. It was a full flight and all we wanted to do was to be back home. We finally landed. Jeanne-Ann had opted for the very last row because there were no other passengers in that row so she had it to herself with Haak.
We got off the plane and saw our friends Scott and Marilyn Williams at our gate waiting for us. They were headed to North Carolina but knew we were landing a little before they were leaving. Then we headed to freshen up and put on the babies' "debut outfits." We walked the long corridor at PDX and then turned the corner (I had the video camera on my phone going) and we heard LOUD cheers. Over 60 people were there celebrating with us. It was AWEsome and overwhelming. I couldn't believe it. I remembered when Josh and Bex returned home. Bex had asked me to take pictures and they had a bunch of family there. Family time was first and all of us friends stood back as they hugged and kissed and held the babies. Then it was time for friends.
We did not have "blood" relatives there, but our other family was there. Typically I thrive in these situations. I love crowds and I love people. It was a weird moment for me. I saw Jeanne-Ann walk up to some of her girlfriends with Haak and I sort of froze. I wasn't sure what to do or who to go to. I honestly can not remember another time in my life where I felt like this. I was out of sorts. It was surreal. I felt like I was floating away from my body and watching from above for a few moments.
Finally someone came to me. (I think everyone was like I was when the Manns came home...we weren't sure when we could go up and didn't want to be that first one). Then the floodgates opened. It was hugs and kisses and more hugs. Nyah is very attached to me so she was pretty uncertain how to navigate this moment. Haak goes to everyone pretty easily.
I began to cry. It was here. The moment we had been dreaming of for almost 2 years was actually happening. We were home with our 2 beautiful babies from Ethiopia. Our West Coast family knew how to celebrate and they celebrated so well! It was a real honor and pure joy to be part of. Honestly, it is quite a blur, but there are snippets of that next hour or so that I will never forget. Eye contact before a hug that went deep into my soul and spoke volumes without hardly a word.
I will let the pictures that follow speak for themselves.
Eager anticipation


Thanx to Lisa for most of these welcome back photos she posted on FB.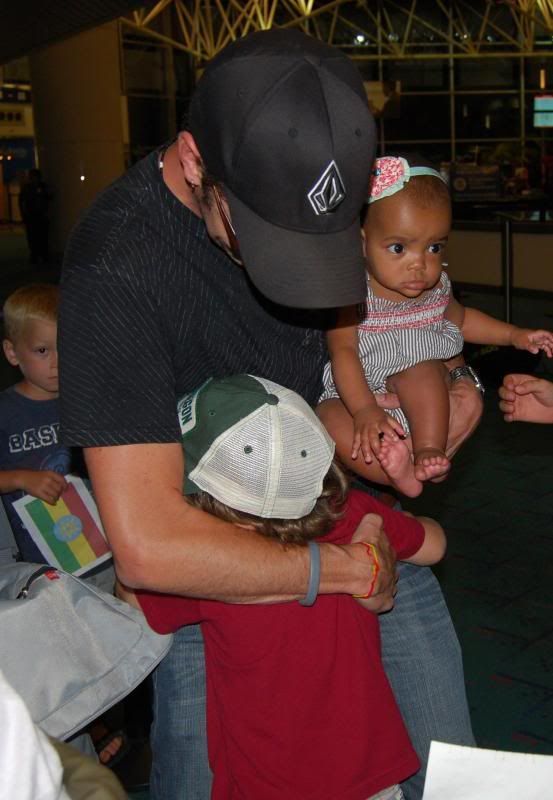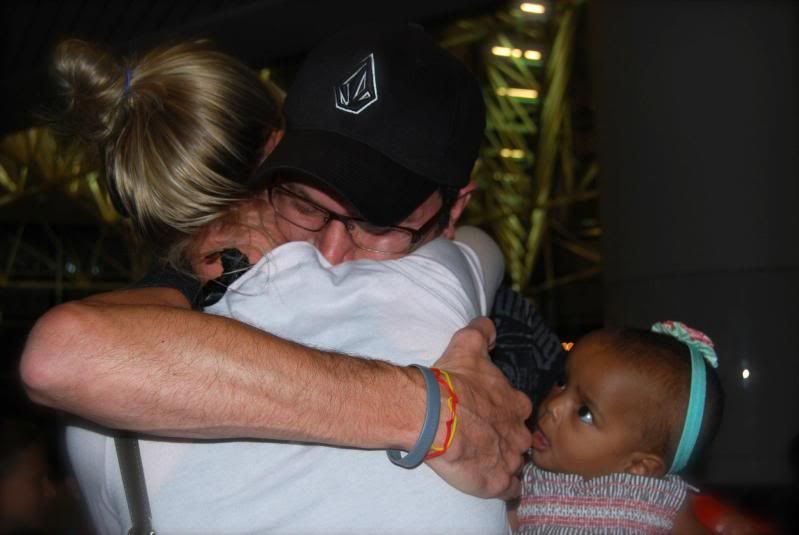 Sometimes a hug is better than any words expressed.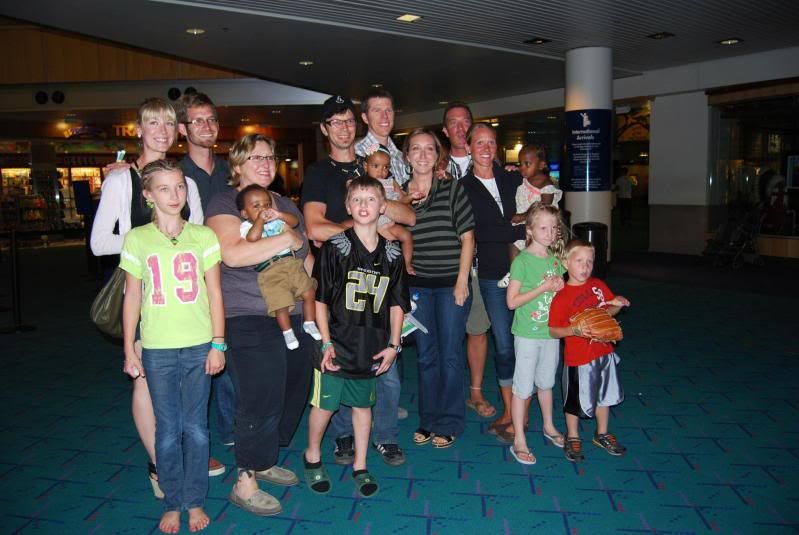 Our Adoption Support Group!
The whole family!
"Erik. Why have you not been to the office in forever? I have a lot for you to do! Get your butt back in there tomorrow!"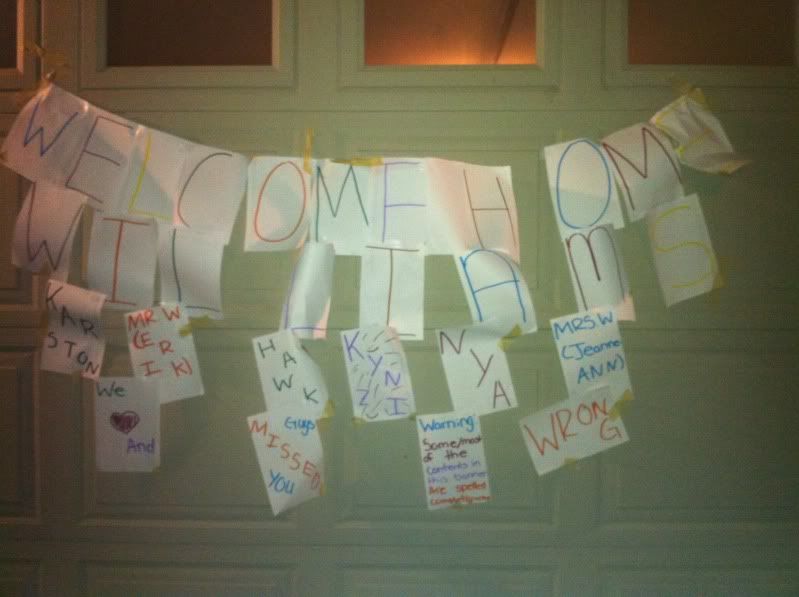 On our garage door when we arrived home.
Thank you so much for being part of our journey. Whether you were there or you prayed for or us or gave us a gift or sent us a note or are a faithful reader on my blog. You have been part of our journey. The crazy part of getting home is over, but this journey and the craziness that goes with it is hardly at its end. Continue to join us, won't you?